There is a big difference between academic writing formatting and structure. Students usually call both things "format," and that is what can create confusion. When we speak about standard essay format meaning its structure, we suggest an outline, an action plan to follow while organizing the work. It serves as a table of contents or a mind map. As for the essay format as of a document, it refers to how the essay should appear and is based on the guidelines given by the educational institutions.
Note: You can format papers in MLA, APA, IEEE, McGill, Chicago, and many other styles. But, a proper essay structure varies based on the requirements.
You will find out when to format an essay in its first and second meanings by reading this article and looking at essay format examples.
Common Essay Formatting Styles
So, how to format an essay using different styles? First, the MLA format is the most commonly used one, introduced by the Modern Language Association and applied in humanities, liberal arts, and social sciences. Mostly, students studying in the US and Canada apply it when writing essays. The specific elements that make the MLA format stand out from the rest of the styles include:
Header
In-text citations
Works cited page
The latest published manual of MLA format is the 8th edition, and, if you were asked to use it, you should stick to it as required by most high-school and college tutors.
Header
Also called a running head, it should be present on every page, including the first page, with a half-inch margin from the top. It generally consists of your last name and the page number following it. Note that some instructors can ask you to omit one of those elements in the header. Please adhere to what you've been told to use.
The first page details
It typically includes the last name of the student, instructor's name, course name, and the date of the project submission placed before the body of the work.
As for a title page (also called a cover page), it isn't required by MLA. But, you can add a separate page with the title of an essay and basic details if necessary — read the requirements carefully or ask the instructor if this element is needed.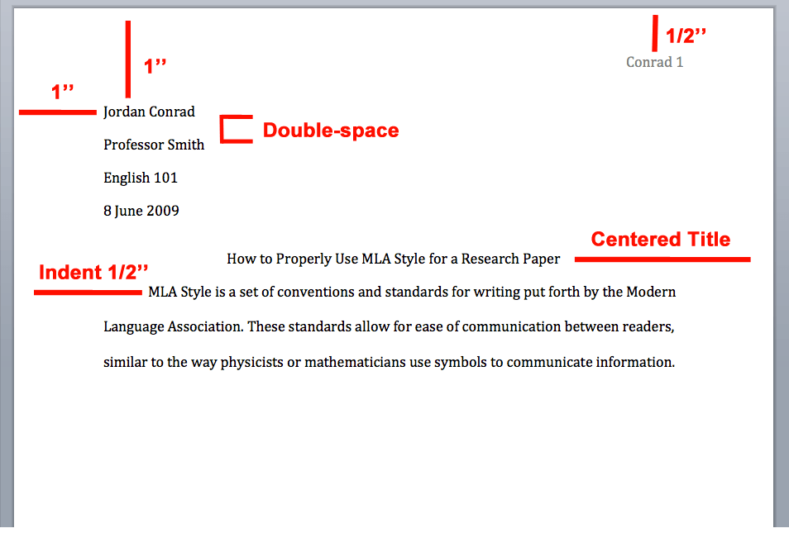 Works cited page
Always start listing your references from a new page at the end of your paper and place the words "Works Cited" centered. All formatting requirements that apply to other pages of your essay apply to this page as well. Except, you must indent the second and all the following lines of the same reference with an additional half-inch margin.
Other requirements
After this, goes the title of your essay in the center of the page. During essay writing, place all titles of other works in quotations or italics, and mind some other requirements of the MLA style, such as:
Font: Times New Roman with 12pt font size
The text should be double spaced
One-inch margins on all sides
Indent the paragraphs with half an inch
(You can usually do that using the Tab key in your word processor or by configuring it in the paragraph settings.)
The page headers should appear on every page except for the title page of your essay (if present). As for the direct quotes, you should put them in quotation marks when paraphrasing or citing an external source. There is no need to do that with common knowledge. You can read more about that in our guide How to Introduce a Quote.
Formatting in APA Style
The next most popular style is APA. It was introduced by the American Psychological Association, which already implies that you'll use it for your papers in psychology disciplines as well as education, nursing, and social sciences. The seventh edition is the latest manual for you if you need to use APA format in essay writing.
Header
In an APA paper, there should be a running head on each page in the upper left-hand corner. An APA header is a shortened version of your paper's title, but it cannot be longer than 50 characters (including spaces and punctuation marks).
Page numbers are also counted as part of the header and should be placed in the upper right-hand corner of every page of your essay.
Note: For school or college essay writing, you are usually not required to include a running head but only the page number.
The first page details
APA requires you to create a title page. When created for a school paper, it should include the following elements:
Title (centered, title-cased, and bolded)
Author's name (without degrees)
Institutional affiliation
Course name and number
Instructor's name
Paper deadline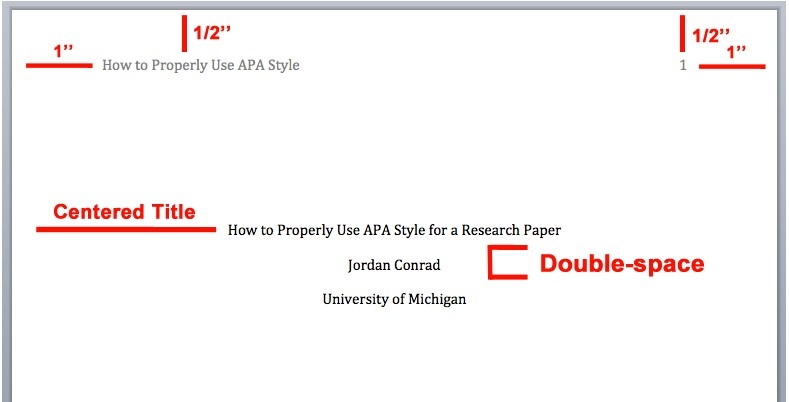 References (Works cited)
The formatting requirements for this page are pretty much the same as for a "Works Cited" page in MLA. You must center the word "References" (without quotes and bolded) and use a half-inch hanging indent for all your references. All other APA requirements apply to this page as well.
To learn more about structuring your reference entries and in-text citation, read the articles we linked to in the MLA section.
Other requirements
Major APA format guidelines for an essay:
Position the title in the center of the upper half of the title page.
Do not make the title of your essay longer than 12 words and make sure it doesn't contain fluff.
Add the page number in the top right-hand corner of each page.
Double-space the entire essay, including the title.
Mind that the running head is a short version of the full paper's name.
All figures and tables must be numbered (e.g., Table 1) and named (in italics) above them and be followed by an explanatory note underneath.
No matter what style of essay you choose, you should provide the full list of sources you have used in your work.
Some Other Citation Formats to Keep in Mind
AMA
AMA, established by the American Medical Association, is one more way to organize your academic paper and make it clear for the audience. Use it whenever you have some essays to cite for a nursing program or health-related classes.
ASA
The American Sociological Association did not waste time either. This organization has proposed its own unique referencing style known as ASA, which is a close resemblance to the APA format with several basic differences. The style has an emphasis on the date and the author's name.
Bluebook
Students who study law should have heard about Bluebook and McGill. The Bluebook refers to a source system that contains a set of guidelines for citing among legal professionals who refer to the works of scholars in their studies. This style was prepared and proposed by Harvard, Yale, and the University of Pennsylvania.
Chicago
The Chicago Manual of Style (CMS) is one more guide to consider. Students and scholars who wish to be published in historical or social periodicals should study the rules of the Chicago Style, which is also sometimes mistaken for the Turabian style. The two known approaches to this format are the Notes-Bibliography System and Author-Notes System.
IEEE
Even students who study coding have a style to follow in their written works. IEEE, established and developed by the Institute for Electrical & Electronics Engineers, is a Bible for those involved in IT, engineering, and computer science.
Harvard
This one is also known as the Author-Date reference style and is mostly used in the domain of economics. There are no official manuals for this format; however, two variants of the guide were published by the British Standards Institution and the Australian Government Publishing Service (AGPS). Some may argue it's among the easiest to use.
That is not the full list! There are many citation formats to master, basically to avoid issues with plagiarism, organize your papers properly.
How to Structure an Essay (Outline)
This section discusses how your essay should be organized in terms of its core parts. A proper structure is among the key elements to a high grade as it helps the reader move through your work without missing the point and follow the logical flow of your thoughts. A standard essay format looks like this: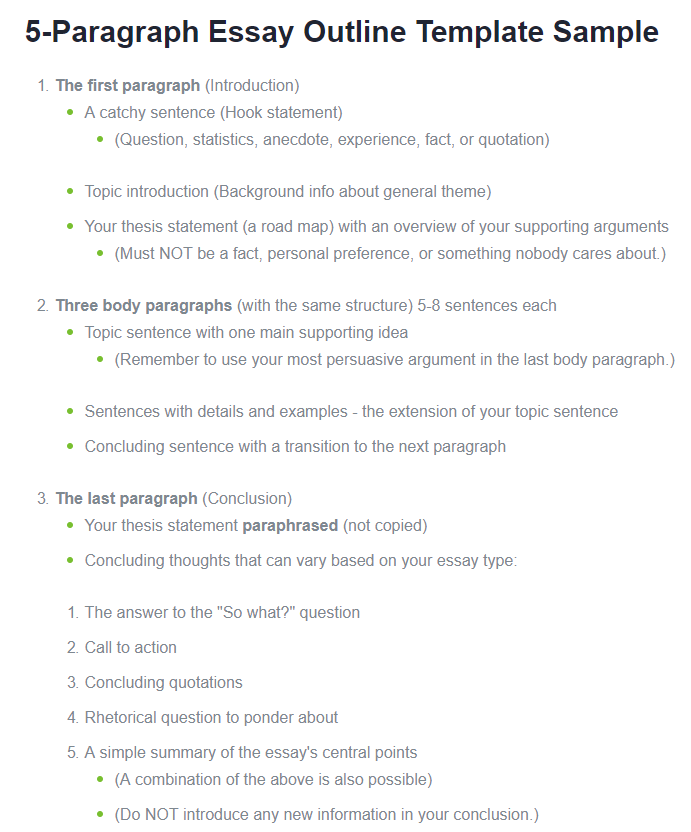 One introduction paragraph
All your papers should start with a title. After that, use an engaging sentence to make the readers want to read the whole text, and only then you can introduce the central argument. Wrap your intro with a solid thesis statement.
Learn more about this first part in our separate guide: How to Write an Essay Introduction.
Three body paragraphs
Usually, you'll have three body paragraphs, each dedicated to one argument or claim related to your thesis statement. There can be more body paragraphs, of course, but make sure to consult your tutor on this question.
Each body paragraph starts with a topic sentence, the main point you want to make by presenting the paragraph. Then the evidence and its interpretation, followed by a transition sentence that should logically introduce the next body paragraph.
Read our comprehensive 12-step guide on essay writing to learn more about this part: How to Write an Essay.
One conclusion paragraph
The final section is generally made of one paragraph, which is called a conclusion, and it's a bit more than a summary of everything said above. You can add some forecasts or reverse hook at the end to leave an impression.
Find out how you can write this part in our article: How to Write a Conclusion for an Essay.
References
As for the reference page, that's where both types of formats collide when writing an essay.
Note: This part, called Works Cited or References in corresponding writing styles (MLA and APA), should contain entries with information about used or cited sources (the author's first and last name, the source title, the year of publication, etc.).
As for the structure of the references and citations themselves, check our article with examples: How to Cite an Article in an Essay (MLA and APA).
No matter whether you have to write a 1000-word essay for the American History class or a 500-word term paper, you should stick to the general structure. Look at the example below for a better understanding.
Essay Format Example (Outline)
Once you are done selecting your essay topic, it is time to create a plan. If the prompt were about cultural identity, here's how the outline could look:
Note: For more examples and tips for writing, check this guide — How to Make an Outline for an Essay.
I. INTRODUCTION
Joke about culture to grab attention
The thesis statement: "My cultural identity used to have the greatest impact in my upbringing, education, and even professional development."
II. BODY
A. Body paragraph #1

Comparing and contrasting my cultural identity to my parents and peers
Elaborate
An example from my kindergarten period

B. Body paragraph #2

Internal and external cultural conflicts — their impact on my cultural identity and behavior
Elaborate
An example from my middle school period

C. Body paragraph #3

The elements of my cultural identity that define who I am
Elaborate
An example from my high school period

III. CONCLUSION

Paraphrased thesis statement
Significance of my cultural identity and experience

IV. REFERENCES
The academic image of a student partially depends on how well he or she follows the proper format of an essay.
The first step to avoiding problems with structure and format is to read the assignment sheet provided by the teacher or professor carefully as well as adhere to general academic standards of writing. You can also look for outline examples and templates online to ease your life.
Was this article helpful?
Let us know if you liked this page so that we can improve our content. You can also ask a question on our About page (see the menu) regarding this article and we might answer it here later.