A proper introduction is critical to winning the reader's attention. However, the way you conclude an essay is crucial, too. When you get to the end of your writing, you get one last chance to convince your audience and produce an impression that will make the reader think about your paper even after finishing it.
"OK, but how exactly should I write a conclusion for my essay?" The answer is, "It depends."
There are various essay types and many ways in which you can approach your closing paragraph. However, there's one common thing — your conclusion should provide the reader with a sense of closure and completeness. Believe it or not, you can do that without dismissing the discussion entirely. Below, we'll tell you about the most common ways you can end a paper, and we'll show you a few examples of conclusions to illustrate our point.
How Do I End an Essay Then?
You won't get a good evaluation by summarizing your essay body paragraphs at a high school or university level. Although it's sometimes seen as a summary of your main points, it's much more than that. Do you know what the serial position effect is? Essentially, it implies that we remember the first and the last items from a list better than those in the middle. The theory of primacy and recency provides a similar statement: our brain pays the second closest attention to the last thing it perceives. So, your final paragraph will stick in your reader's memory, along with the first one. It's the best place to bring out the importance of your topic and the strength of your arguments.
To write a conclusion and end an essay, you should:
Rephrase your thesis statement and central points;
(Optional) Refer to opposite views;
Use one of the techniques below for your closing sentence.
Note: You can go from more specific details to a broader context when writing your conclusion.
How do I paraphrase my thesis statement?
Paraphrasing means using different words to say the same thing. Look at the samples below to learn how you can do it or read our separate guide on paraphrasing.
Original:
The use of technology and screen tune can be positive for children as it allows them to excel academically by experiencing the expanding definitions of classrooms and literacy as a whole, improving low-performing developmental skills, and supplementing in-class education for more academically-advanced students.
Paraphrased:
By using technology and screen time, you can provide a comprehensive and positive educational experience for children and adolescents. Technology facilitates in-class learning, enhances underperforming developmental skills, and allows children to succeed in their studies by embracing the broadening definition of a classroom environment and overall education.
So, what should the conclusion paragraph include?
Start your conclusion with a rephrased thesis statement. It's a great way to take the reader back to the heart of your essay. Then, summarize the main points from your body paragraphs. If there are no other standpoints to review, move to step three, which is further detailed in this article. If you are not good at paraphrasing, then you can paraphrase your thesis statement online by using AI tools.
Also, you can put your restated thesis at the very beginning or later. You can start with an opening sentence first, for instance. The one rule you must remember is that it is a bad practice to repeat your thesis statement letter by letter.
Note: Synthesize the main points of your essay. That means you don't just list them one after another but explain their impact and how they are correlated.
You can experiment with placing these parts so there isn't a fixed order for them to follow.
Next, provide some additional context for the reader. It's the third and the last point on our list. You can choose from several options: underscore the weight of your argument, ask more questions, encourage action, compare, or quote someone authoritative in your field. Many strategies exist, but what you pick depends mainly on your topic.
A strong essay conclusion goes beyond recapping. Now, let's dive deeper and explore how to finish your paper and what you shouldn't do.
Eight closing methods
Depending on what you're writing, the way you wrap it up can vary. It can tie up loose ends, ask a rhetorical question, call to action, or suggest the implications of the topic. Anyhow, we advise you to consult with your tutor or professor when you don't know whether you can use a particular technique to develop good concluding sentences for essays.
1. Consider a broader scope
Set the discussion into a wider context. By casting a different light on the main topic, you can help the reader take a fresh look at it and reassess their viewpoint.
2. Debate the ambiguity
Tell the audience why there can't be one exhaustive answer. Often, you can't say that something is good or bad because you're in this gray zone of discourse. If you think your topic is that subject, you can write about it in your final paragraph.
3. Ask other questions
Show what important questions result from your essay and are worth studying in future works. Such a finisher can leave the reader contemplating long after the last word of your essay is read. Moreover, a rhetorical question can also help you end the paper without closing the discussion.
4. Try to predict
You're not a prophet (or are you?), but you can assume the implications for the subject under discussion using logic and deduction. Ask yourself, "How will this affect the world? How will things develop if no measures are taken?" You can apply this way of closing your essay if you're writing about a problem and its possible solutions or observing a phenomenon.
5. Challenge or call to action
This method is usually used to end persuasive speeches and make people take action. If your essay casts light on a big issue and how to deal with it, you can also conclude by calling your audience to do something about it.
6. Echo the introduction
It's a subtle way to wrap up the paper in case you want to close the circle and use the same scenario you used at the beginning. But don't forget to rephrase it! This one is best for a personal or a narrative essay. You can also refer to an idiom or a quote you used in the introduction to loop your paper.
7. Conclude with a quote
Another way is to end your essay with a quote. But ensure it belongs to somebody competent, linked to your topic, and perfectly fits the context.
Note: Learn more about citing sources in your essay by reading this article: How to Cite an Article in an Essay.
8. Indicate the most important point
In case you plan to show the final verdict you have arrived at, you can highlight it in your last sentence. This will work if you can extract one big conclusion from everything you wrote.
How NOT to end an essay
Besides writing what you should do while concluding an essay, we also composed a list of things you shouldn't do. Yes, it's tricky to bring your paper to an end properly, but it's not impossible. You've invested so much effort into writing that you may want to finish it quickly — it's only natural. However, you must not fall into this trap and follow these conclusion tips.
In your conclusion paragraph, DON'T:
Present any new arguments, proof, and details
Make things look too simple
Use meaningless cliches that only sound nice
Belittle your abilities and make excuses
Summarize the essay, esp. if it's a small one
Make your argument look weak
Rephrase thesis statement without anything else
Create a list-like ending that's repetitive
Put emphasis on a weaker argument
Use transition words like "to sum up" or "in summary"
Can't I just summarize an essay at the end?
Technically, you can. But it's a bad practice to end just with a recap of the essay, so ensure to add other parts as well. If you don't want your work evaluated as middle-school-level writing, go beyond rehashing the content.
Why can't I add new information?
You'll only confuse the reader if you introduce new arguments and ideas at the end. The person evaluating your essay will probably think you can't organize your thoughts well, resulting in a reduced grade.
You are on the right track if nothing from the list above is in your closing paragraph.
Essay conclusion paragraph examples
Each conclusion sample you see below was handpicked from reliable sources so that you could learn how to write your own conclusion. As you'll see, the length and format vary according to the topic, paper type, and author's outlook. Also, if your essay conclusion example fits the criteria, you can send it in using our "Helpful" form below. If it's good, we will add it here.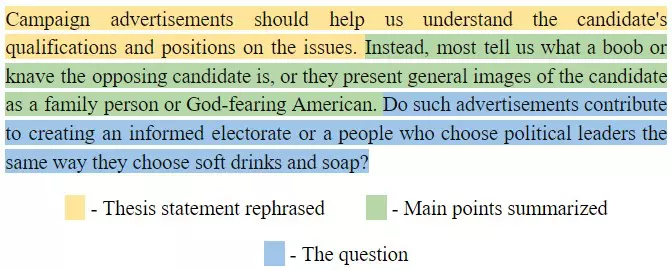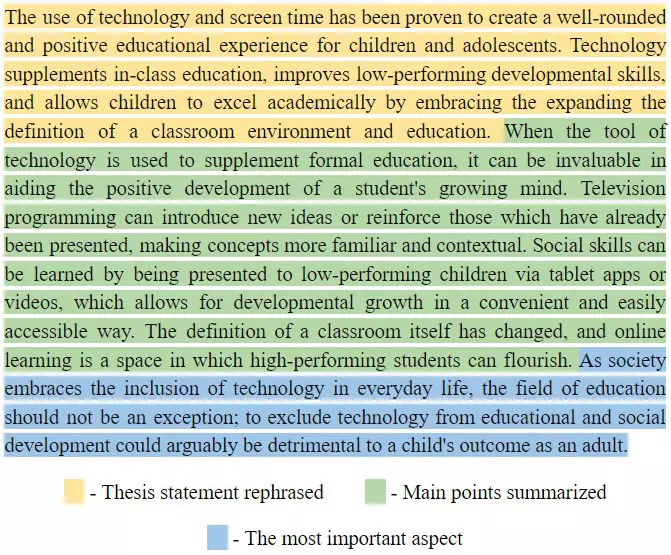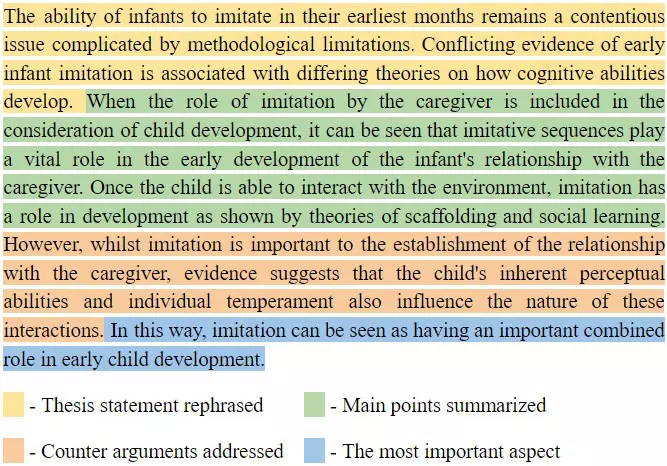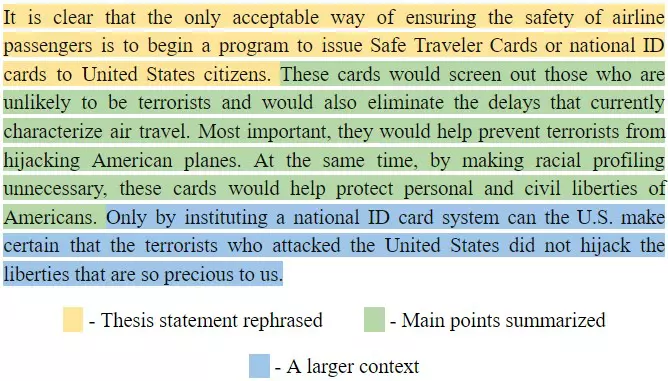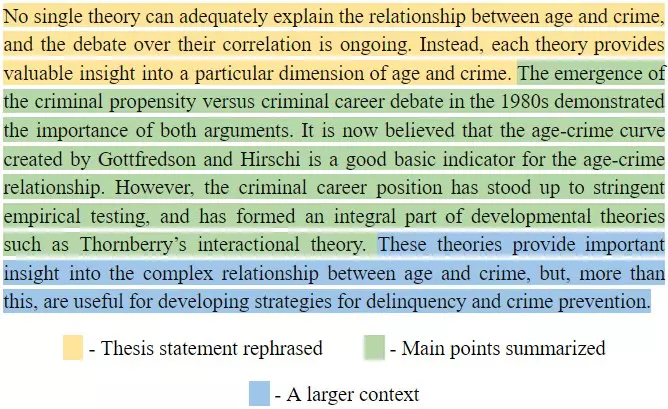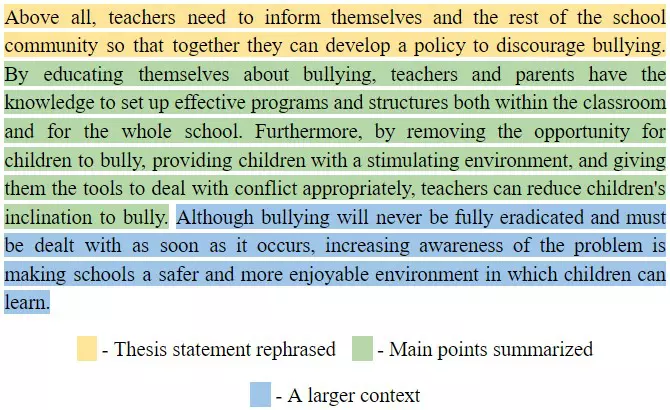 essay-conclusion-example-question-challenge
essay-conclusion-example-question
essay-conclusion-example-prediction
essay-conclusion-example-main-point-2
essay-conclusion-example-main-point
essay-conclusion-example-challenge
essay-conclusion-example-broader-context-3
essay-conclusion-example-broader-context-2
essay-conclusion-example-broader-context
Mini-FAQ
What is a conclusion in an essay?
An essay's conclusion is your last paragraph, the last section where you combine all the puzzle pieces to create a complete picture composed of your rephrased thesis statement, reviewed and synthesized evidence, and a sentence that would expose your topic in a broader context.
How to start a conclusion in an essay?
You can begin by paraphrasing your thesis statement to remind the reader (who's generally your professor) about the essay's main subject.
How to end a conclusion in an essay?
You can reemphasize your main conclusion or try other methods like asking a question that derives from your findings, encouraging the reader to take action, citing a quote from a subject matter expert, or assuming how things will develop in the future.
How to end an essay with a bang?
Only a powerful conclusion can leave a strong impression on the audience. You can achieve that by drawing on human emotions like fear, awe, anxiety, confusion, disgust, interest, nostalgia, or sympathy.
How to conclude without saying "in conclusion"?
You can just state it. You don't have to use any special phrases, and just start concluding. The better variants of phrases you can use instead of "in conclusion" are in the final analysis, on the whole, on a final note, given all the factors we have discussed.
The list of references
Ending the Essay — Harvard College Writing Center
Writing Effective Endings — University of Richmond Writing Center
Concluding an Essay — Purdue Online Writing Lab
Finishing a Paper — The University of Maryland
Conclusion Writing — Monash University
Was this article helpful?
Let us know if you liked this page so that we can improve our content. You can also ask a question on our About page (see the menu) regarding this article and we might answer it here later.