It has become traditional for professors to have their students write essays on sociocultural or sociopolitical topics recently. Some popular subjects include gender inequality, LGBT and women's rights, and public health. So, it's hardly a surprise that you can be asked to write a gun control essay.
That said, it's an excellent way to hone one's writing skills and develop an opinion on pressing issues. And the best part is that you get to improve your grades. Just like any other academic paper, a gun control essay follows the basic structure: introduction, body, and concluding paragraphs. So, how do you piece them all together to come up with an excellent paper? Before we delve deep into the matter, let's first brainstorm ideas that'll be instrumental to your task.
Also, there's a gun control essay example later in our article. We hope it will help you to understand this task better and get inspiration.
Ideas for a Gun Control Paper
Regulating guns legislatively is one of the most hotly debated topics these days. It's also a very sensitive one, especially if we consider the recent spate of mass shootings. So, what's the reason for all the incidences of confusion and mayhem? It all has to do with the Second Amendment passed in 1791 as part of the Bill of Rights. One of its clauses states: "As long as a well-regulated militia is necessary for the security of a free state, the right of the people to keep and bear arms shall not be infringed upon."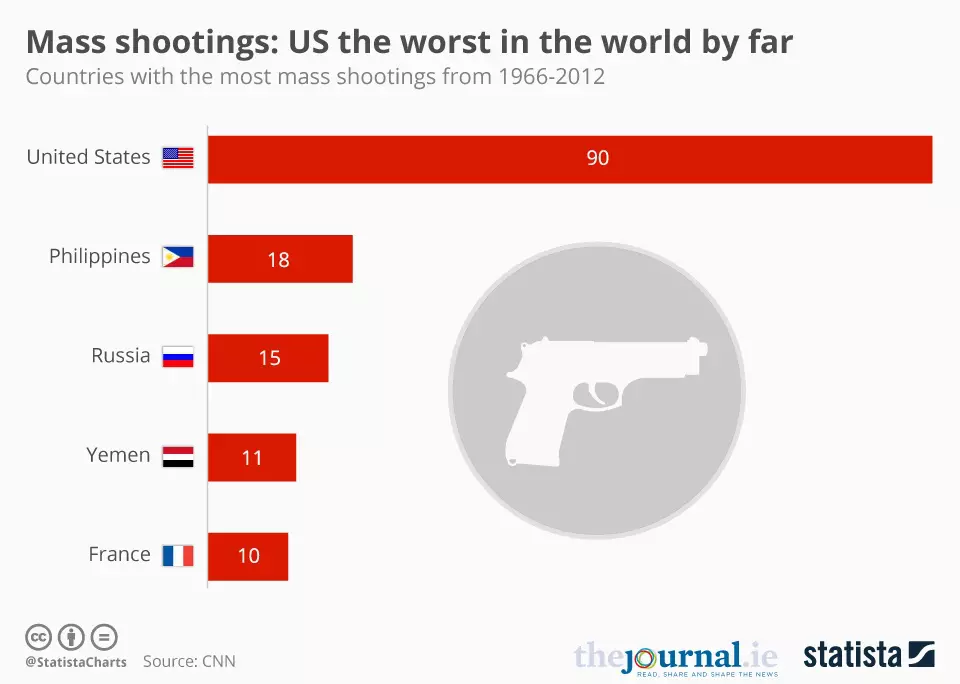 This statement has been at the heart of the polarization of American society. Pro-gun activists believe firearms should be sold freely, while their opponents think America needs to tighten its gun laws. The former appeal to the higher rate of incidences involving gun violence. But regardless of one's viewpoint, one thing is clear: mass killings of innocent people need to be stopped. Can the banning of gun possession achieve that goal? It remains to be seen.
Another recently raised question is whether the First Amendment is flawed. Its critics in gun control articles say that in light of the magnitude of the changes that have taken place in the world since the enactment of the First Amendment, it's essential to revisit its applicability in the modern world. Examples of these changes include technology, racism, and mental health, just to mention a few. Below are some aspects of this issue you can study to build your essay around.
Modern Technology
Technological advancement is among the most significant developments since the adoption of the First Amendment. With the advent of social media and the Internet, you can connect to anyone around the world in a matter of seconds. It has become effortless for men and women to obtain a firearm or buy its parts and build one at home. All that makes it a titanic task and causes mass shootings to occur more often. If that level of technological advancement wasn't present in 1791, why should the same law be applied today?
Racism
Racial discrimination cuts across all strata of American society. No wonder it's considered one of the root causes of mass shootings. But, let's not forget the famous phrase: "People kill people, guns don't kill people." Indeed, it's possible to be a racist and not desire to commit mass shootings. So, is racism to blame for such outbreaks of violence? Or should we point an accusing finger at the lack of an effective gun control policy? Or should we blame both? This can also be an excellent point to raise for pro- and anti-gun control essays.
Mental Health
Mental health is an area neglected until now. And the reason it's been brought to light recently is that most mass shooters usually have some kind of mental illness. A survey conducted in New York in 2018 found that 19.1% of adults in the United States are mentally unstable to a certain degree. What would happen if these individuals got their hands on firearms without proper regulation? Making an irrefutable argument like this for an argumentative pro-gun control essay is sure to grab the attention of your professor.
Self-Protection
Some advocates of pro-private firearm ownership cite the need for self-protection. They claim mass shooters committed acts of violence due to their victims being unarmed. In other words, common sense will stop you from traveling to an area full of gun owners and going on a shooting rampage. That was pretty much how we all lived some 200 years ago. But, is this the world we want to live in: one riddled with bullets and stained with blood? Evidently, no. So, will making firearms available to the public be able to stop mass shootings? Or should we put in place stricter gun control regulations? And how will gun control lobbyists respond to such a measure? Those are a few ideas you can explore to write a solid paper.
Example of a Gun Control Essay
Topic: Gun Control in the U.S. should be Stricter
The recent spate of gun violence and death in the U.S. has, for the umpteenth time, charged up debate on gun control laws. The battle line is clear with proponents and opponents of stricter regulations. Nevertheless, as the debate rages on to become a significant political issue, civilians can still buy guns freely. Proponents of stricter laws argue that, among other things, restrictions on gun ownership would solve gun violence and deaths.
On the other hand, opponents of stricter laws also have the same reasoning but think they can defend themselves better in case of gun violence scenarios and that gun ownership is their right. It is a war between the proactive (proponents) and the reactive (opponents). Ideally, stricter gun control laws would reduce gun-related deaths and federal spending on healthcare, protect women and vulnerable people from domestic abuse and stalkers, and prevent the chances of a murder turning into a mass shooting because of high-capacity magazines.
The firearms issue has left the social sphere and into the health sector, becoming one of the leading causes of death in America. According to Resnick et al. (2017), gun violence accounts for over 30,000 deaths every year, costing the taxpayers over 48 billion dollars in healthcare expenditure and lost wages. Over the last 15 years, close to half a million Americans have died due to gun-related violence. Faced with these massive deaths and healthcare costs, the existing federal law mandates dealers to conduct thorough checks on people before they buy guns (Aronow & Miller, 2016). The problem with this legislation is that private dealers and online sellers rarely conduct background checks. Resnick et al. (2017) also noted that restrictive gun laws had a positive relationship with decreased firearm-related fatality rates.
Banning or restricting the use of high-capacity magazines could prevent an escalation of gun violence situations. According to Campion, Morrissey, Malina, Sacks as well as Drazen (2017), preventing future mass shootings should be based on restricting access of civilians to semi-automatic firearms, especially those that can be easily modified into automatic ones by their owners. Currently, the federal government has strict control over access as well as the use of automatic weapons, but that is not effective if people can just buy and convert their semi-automatic rifles into automatic weapons. Campion et al. (2017) note that the fatal Las Vegas shooting was facilitated, in part, by a fully automatic gun, which enabled the shooter to kill hundreds of people so effectively and so fast. If semi-automatic rifles cannot be banned, at least they should be manufactured too rigid to convert into automatic weapons. Even then, the magazine capacity of these rifles and their purchase should be restricted. Restrictive firearm laws would also save women from domestic abuse and vulnerable populations from gun-related deaths (Lynch & Logan, 2015).
On the contrary, opponents, particularly Christian nationalists, argue that owning guns is their sacred right (Whitehead, Schnabel, & Perry, 2018). Just like most opponents, this group feels that they need to defend themselves in case of a need. Therefore, gun violence and related legislation should consider the underlying cultural and religious beliefs to allay any fears and prevent resistance to stricter policies.
Stricter gun control laws would decrease firearm-related lethality and national healthcare expenses, save women and unprotected people from family violence and prowlers, and limit the chances of shooting becoming mass because of high-capacity magazines. There is a need to prevent rather than react to gun violence. That requires active preventive measures like stricter firearm legislation, which will ban or restrict the access and use of high-capacity magazine rifles. Hence, this will reduce taxpayer expenditure on healthcare costs related to gun violence and deaths. However, for such strict laws to be effective and fair to everyone, they should consider people's cultural and religious beliefs.
References
Aronow, P. M., & Miller, B. T. (2016). Policy misperceptions and support for gun control legislation. The Lancet, 387(10015), 223. https://doi.org/10.1016/s0140-6736(16)00042-8
Campion, E. W., Morrissey, S., Malina, D., Sacks, C. A., & Drazen, J. M. (2017). After the Mass Shooting in Las Vegas — Finding Common Ground on Gun Control. New England Journal of Medicine, 377(17), 1679–1680. https://doi.org/10.1056/nejme1713203
Lynch, K. R., & Logan, T. (2015). "You Better Say Your Prayers and Get Ready": Guns Within the Context of Partner Abuse. Journal of Interpersonal Violence, 33(4), 686–711. https://doi.org/10.1177/0886260515613344
Resnick, S., Smith, R. N., Beard, J. H., Holena, D., Reilly, P. M., Schwab, C. W., & Seamon, M. J. (2017). Firearm Deaths in America: Can We Learn From 462,000 Lives Lost? Annals of Surgery, 266(3), 432–440. https://doi.org/10.1097/sla.0000000000002376
Whitehead, A. L., Schnabel, L., & Perry, S. L. (2018). Gun Control in the Crosshairs: Christian Nationalism and Opposition to Stricter Gun Laws. Socius: Sociological Research for a Dynamic World, 4, 237802311879018. https://doi.org/10.1177/2378023118790189
---
How to Write a Gun Control Essay
Introduction
As usual, the introduction is the opening paragraph of your essay. So, you can use it to produce either a good or bad impression on your readers. So, how do you write an excellent introduction for a gun control essay? Depending on your essay type, try using an anecdote, proverb, quote, statistic, or definition. For instance, it's best to use a definition or statistic for a gun control essay, whereas anecdotes, proverbs, or quotes might not work well for an argumentative or process essay. Lastly, don't forget to include your thesis statement, which usually comes at the end of an introduction.
In the next section of the article, you will find nine examples of introductions — three for every essay type described. Study them to get a more solid grasp of the ways you can start your essay.
Body
The body paragraphs usually contain the main ideas you have gathered for your gun control essay. So, depending on the length of your paper, you will write on more or fewer points. Be sure to use transitional sentences at the end of a paragraph or at the beginning of the next one. It's vital to start each major point with a new paragraph and also, make sure to present your most persuasive argument last.
You can read our guide on how to write an essay and apply it to your gun control assignment.
Conclusion
Your conclusion should be a summary of the main ideas in your essay about gun control. So keep it short and concise. You could also add some final thoughts or a call to action depending on the nature of the paper. Still, it should be related to the points you've already discussed.
This last part is crucial, especially for persuasive or argumentative writing. Read our tips on how to end a paper to learn more.
Gun Control Essay Types
Understanding the topic and what's required of you is key to getting a good grade for your essay. Deviating from the subject will earn you no good marks, so you need to be meticulous in this respect. There are so many ways a gun control essay might be composed. Let's check out these three common ones:
Argumentative Gun Control Essay
As the name implies, an argumentative essay aims to convey the author's viewpoint in a manner that convinces the readers. Due to the nature of pro-gun control vs. anti-gun control themes, argumentative essays have become one of the most preferred essay types on the given topic. At least, that's what academic experts with years of experience in the area claim. The abundance of existing viewpoints allows you always to include opposing views for rebuttal.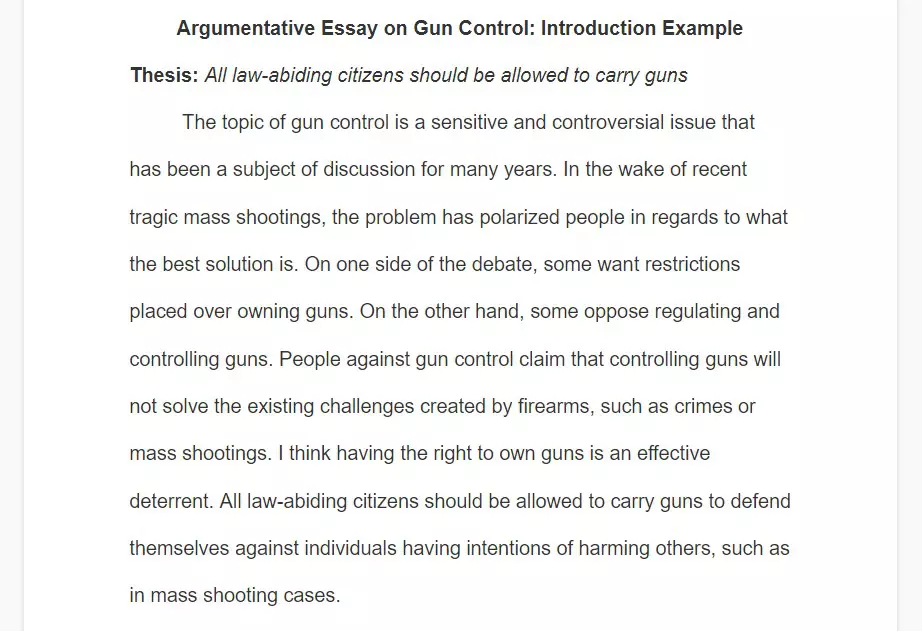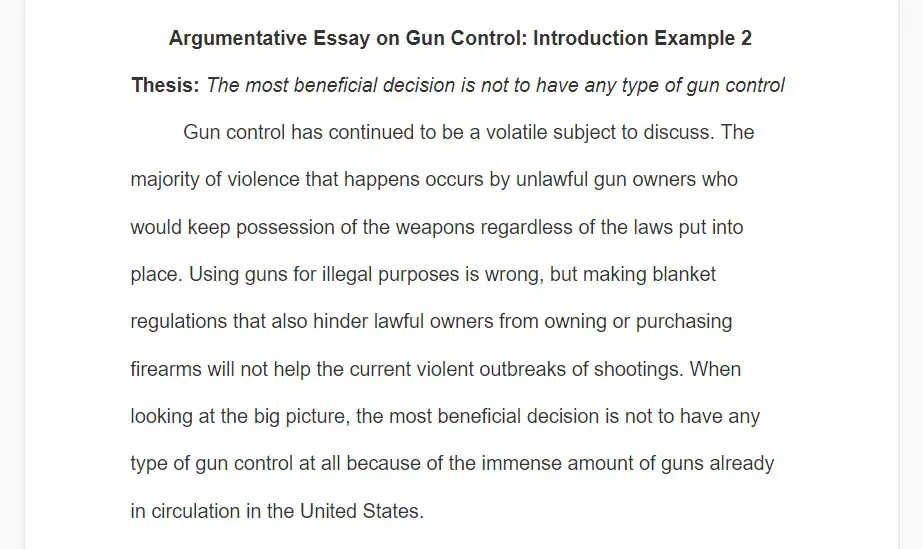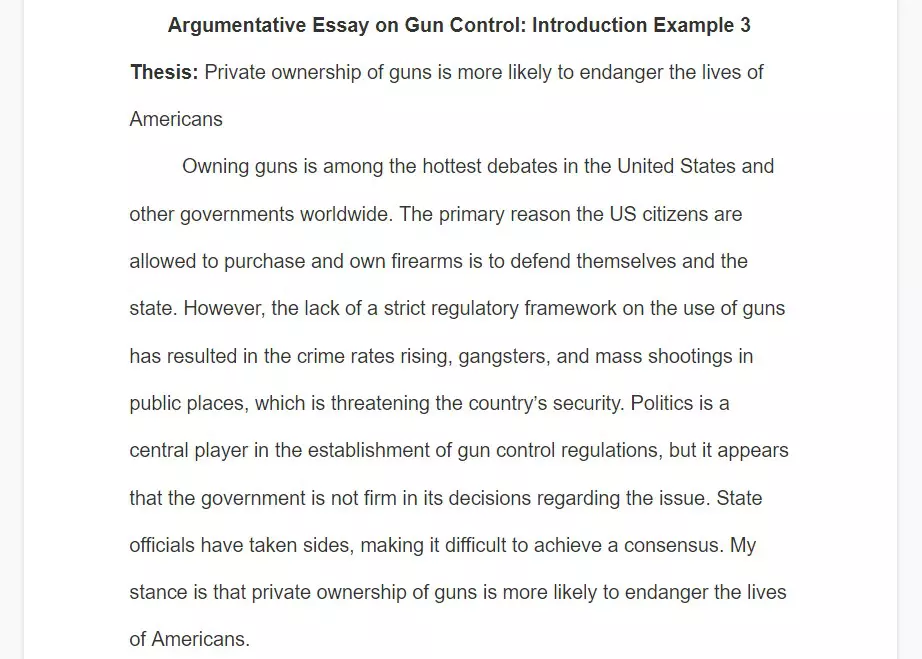 argumentative-essay-on-gun-control-against-introduction-example
argumentative-essay-on-gun-control-against-introduction-example-2
argumentative-essay-on-gun-control-pro-introduction-example-3
Cause and Effect Gun Control Essay
A cause-and-effect essay aims to analyze the reasons and consequences of a topic. And, in this case, it's gun control or mass shootings. You can take any of the aspects we presented at the beginning and analyze how it causes issues with firearms and what effects it has.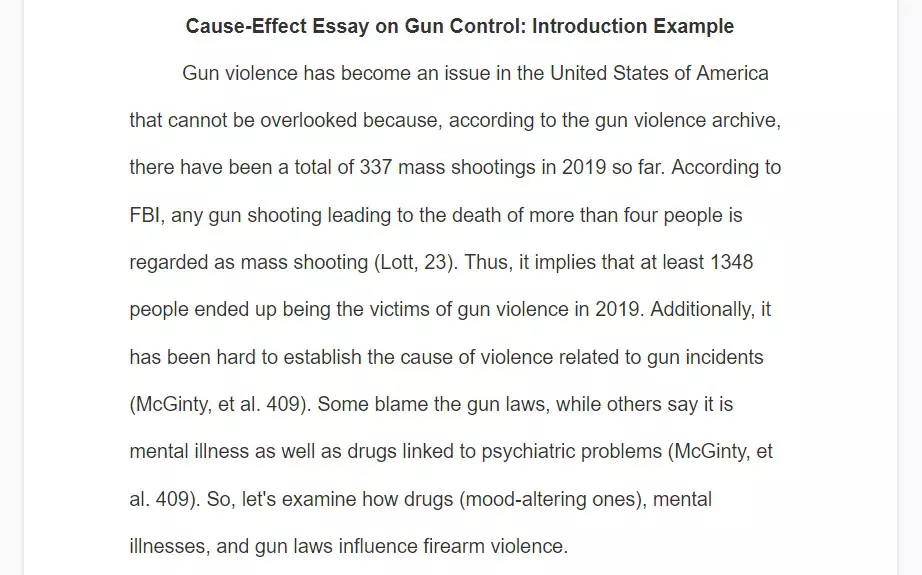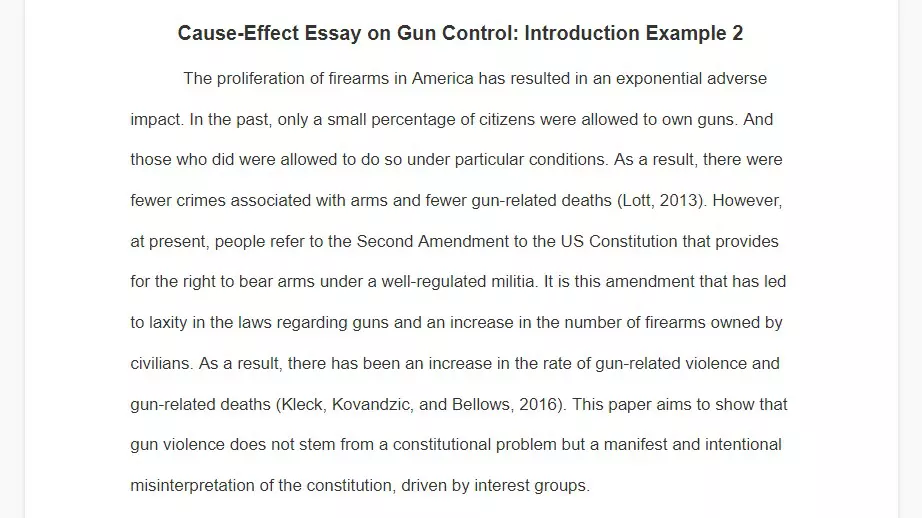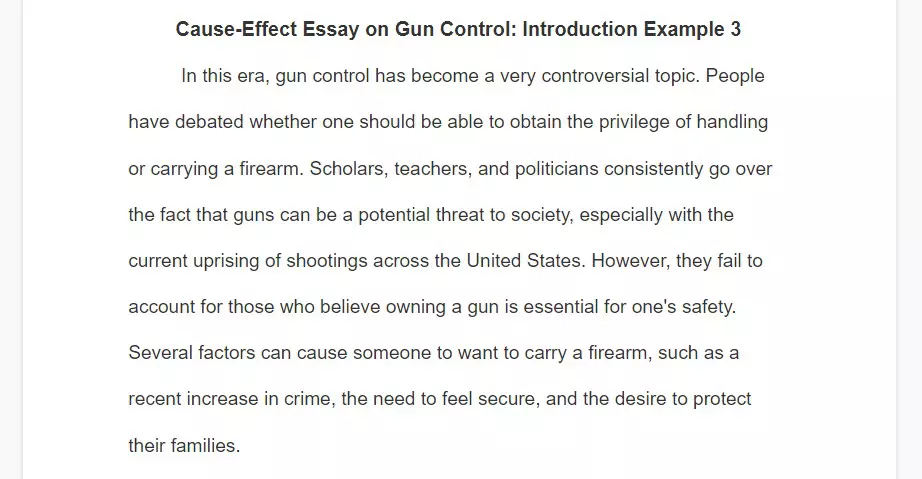 cause-and-effect-essay-on-gun-control-introduction-example
cause-and-effect-essay-on-gun-control-introduction-example-2
cause-and-effect-essay-on-gun-control-introduction-example-3
Persuasive Essay on Gun Control
In a persuasive essay, your goal is to sway the reader to take your stance on a certain issue. It is similar to the argumentative paper, but it appeals to the emotions of people rather than cold facts and academic style of argumentation.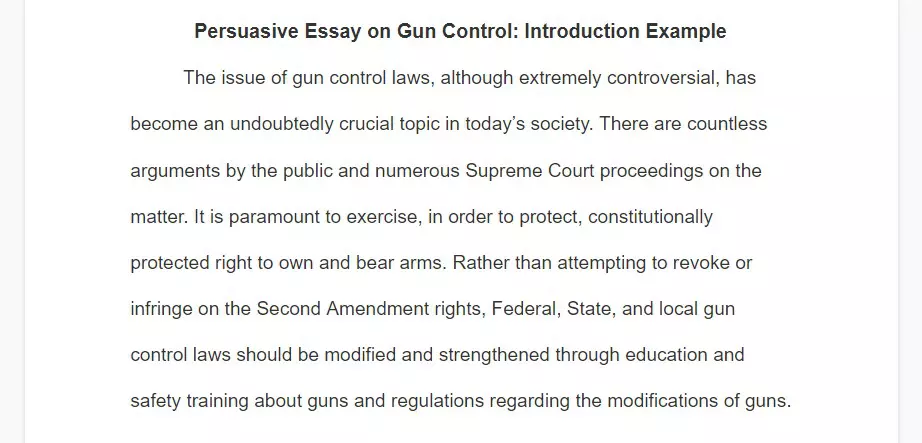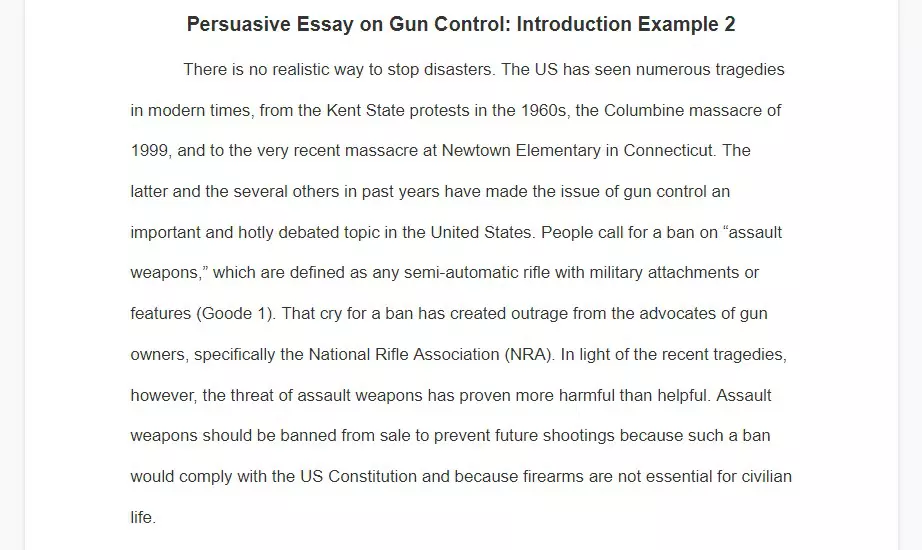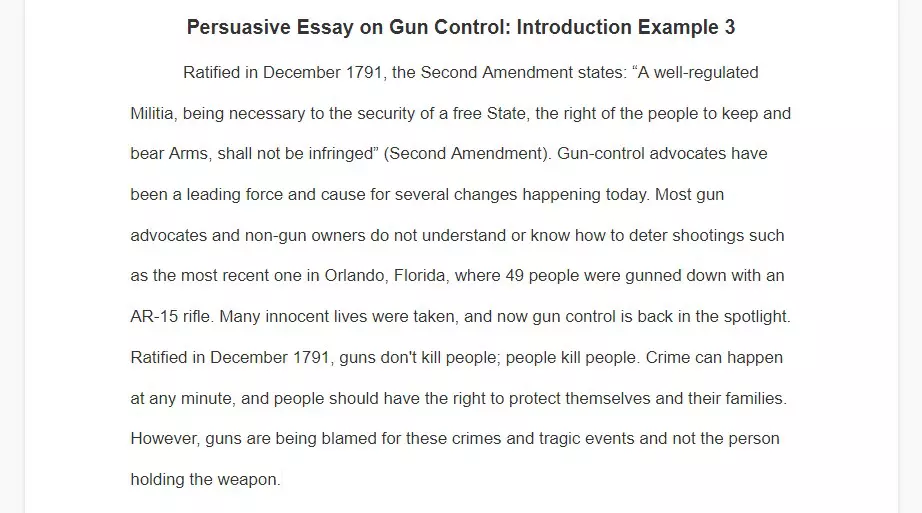 persuasive-essay-on-gun-control-introduction-example
persuasive-essay-on-gun-control-introduction-example-2
persuasive-essay-on-gun-control-introduction-example-3
Was this article helpful?
Let us know if you liked this page so that we can improve our content. You can also ask a question on our About page (see the menu) regarding this article and we might answer it here later.