An essential part of the NYS Regent Exam in Global History and Geography II is writing an enduring issues essay. In this article, we will examine its definition, outline, and examples.
An enduring issues essay is a written task where you are to identify and describe a historically significant challenge that has endured across time and has been addressed with varying degrees of success. You will be given a set of five historical documents (docs) (rather excerpts from them) to analyze. Based on that, here's what you can be expected to do in this assignment:
Determine what enduring issue is common for all documents.
Argue the importance of the chosen problem and how it has endured.
Base your argumentation on historically accurate interpretation of at least three documents.
Show the causes and effects of the issue you choose.
Show how it has been developing and changing over time.
Use external data: your knowledge or evidence from other documents.
Note: This is what your task sheet can look like.
First, look through the list of commonly emphasized enduring issues (main category) and their nested problems (sub-categories).
We have prepared an enduring issues list. You can find it after the definition sections. If you want to share the infographic, please indicate this page or our homepage as the source.
What are Enduring Issues?
An enduring issue is an issue that persists throughout the history of humanity and is debated in relation to history, social studies, and anthropology. Humanity encounters them daily. That is why it is critical to discuss and study them in-depth to find possible solutions, and essay writing is one of the ways.
Many communities have tried to deal with and solve enduring problems, and only some of them did it somewhat successfully. The outcomes of their attempts are documented in historical archives. Students who study global history and associated subjects should encounter this topic, especially when preparing for that Regents exam. So, knowing your way around various databases and archives, as well as having real-life experience, can be useful.
Long-lasting challenges are historically significant, and these problems are relevant to various generations, no matter how much time has passed. We can observe evidence of enduring problems everywhere around the earth. To prove that a particular event is historically significant and should not be ignored, a student has to explain how it has impacted multiple societies and caused long-term consequences.
The enduring issues list below is created based on the information by NYS Education dept.
9 Examples of Enduring Issues (Infographic)
An event is historically significant if it affects many people and has long-lasting consequences. Without having specific enduring issues essay examples, it might be hard to understand what is meant by that. Hence, here is a list of enduring issues that students might have to cover:
Conflicts
Cooperation
Power
Inequality
Innovation
Interconnectedness
Ideas and beliefs
Environmental impact
Scarcity
---

---
In each category, it is possible to highlight many nested topics. Such points may include ethnic disputes, lack of food, domestic violence, threats to privacy, gender inequality, usage of child labor, stain on resources, and more. A nested problem refers to a specific category of enduring issues. A student can discuss them negatively, neutrally, or positively based on the historical data and facts, as well as their personal life experience and knowledge.
How to Write an Enduring Issues Essay
The process of writing an essay on enduring issues starts with developing a thesis statement.
A thesis statement is a part of an academic or scientific paper's introduction in which a writer establishes their argument and defines examples that will help them to defend the argument. It should give one an idea of what their anchor paper will cover. It can be longer than a single sentence, but college professors do not recommend making a thesis statement more than three sentences long. The formula looks this way: Thesis = Claim + Examples.
Below are three essay thesis examples that will help you get a better idea about this part.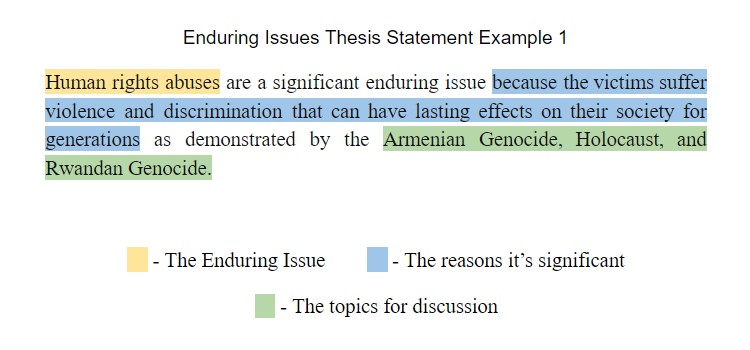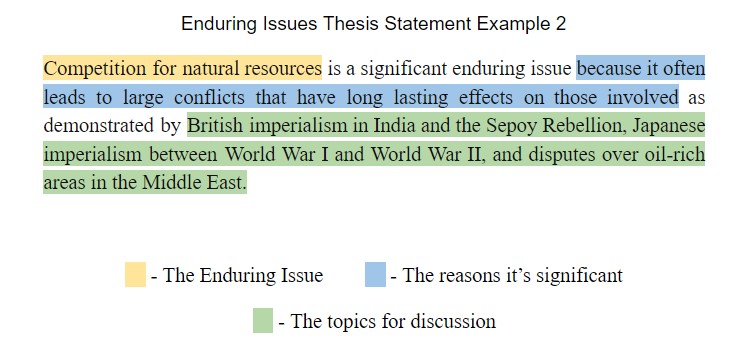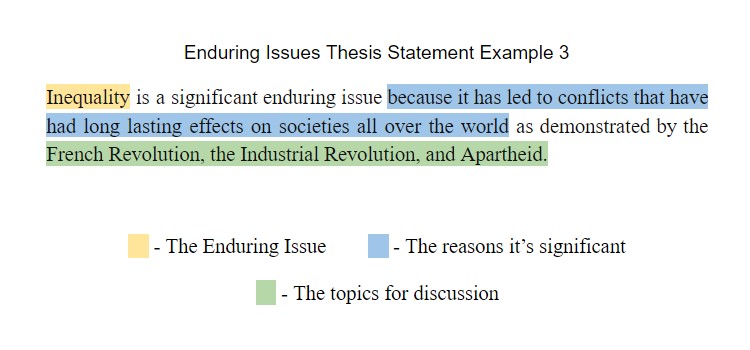 enduring issues essay thesis statement example 1
enduring issues essay thesis statement example 2
enduring issues essay thesis statement example 3
It is critical to remember that a thesis depends on the description of your assignment and questions or prompts for a test like the Global II NYS Regents Exam (Global Regents). Therefore, it is necessary to study the prompt and underline the keywords indicating your objective. The next stage is drafting an outline.
A Detailed Enduring Issues Essay Outline
This enduring issues essay outline is just a possible solution that can help you come up with the constructed response questions. In 90% of cases, a paper on enduring problems is an extended essay. It means it can be a 2—3-page piece with a more complicated structure than a simple essay.
1. The Introductory Part
Reiterate the questions from the prompt.
List the issues you think are common in at least three docs of your choice.
Present your claim. Say which issue is the most important in your opinion.
Define the picked issue.
Indicate in which documents it manifests the most.
2. Body Sections
Part 1 — Describe how people have been affected by the issue.
Example 1
Example 2
Example 3
Example 4
Part 2 — Explain how the issue has been changing and what forms it takes today.
3. Conclusion
Present counterclaim
Reiterate your claim
If you stick to this enduring issues essay outline, you will have a better chance of getting a passing score. However, it's not the only way to structure your writing. Make sure to check the video further in the article to learn another way of organizing this task.
Note: You can read more about creating outlines for essay and check some other outline examples here: How to Write an Outline
Enduring Issues Essay Prompts Examples
Most prompts for such an essay look more or less similar. Here are some examples:
Define an enduring or nested issue by providing its historically accurate explanation contained in 3 docs.
Identify the problem with the help of the evidence from 3 documents.
Explain why the issue matters and needs to be studied.
Show how the topic impacted society or was influenced by it.
How has the issue developed over the years?
What's the problem like today?
Add the info from external sources related to global history and social studies and supply supporting evidence from the observed materials.
If it's a homework essay assigned to you, the structure above should be sufficient. More specific prompts may include something like this:
Why are human rights violations a significant enduring issue?
Discuss the causes of the rising competition for natural resources.
Inequality through the prism of The French Revolution and the Industrial Revolution.
You can start any by identifying a problem and its origins (when it was observed for the first time and why it occurred). You should also ask yourself this question: Does it have continuous negative or positive effects? Study prior works to find out what generations of people did about the problem and conclude why those measures were or were not enough.
When composing this type of essay, you'll need to rely on your critical and historical thinking skills heavily.
Free Enduring Issues Essay Examples
A great way to prepare is by studying enduring issue essay samples. It is more complicated than your simple essay, so investing a couple of hours in sample reading is a good idea.
Content-Specific Rubric Samples (2018)
This first file contains thirteen samples of enduring issues essay written by students. Their text was left intact, meaning all mistakes are also present there. The document also includes a generic rubric, a table showing what issues can be found in every doc, and scoring rubrics with detailed analysis for "Acceptance or Rejection of New Ideas" and "Impact of Westernization."
Every sample is followed by a thorough review and an overall verdict.
Video Sample Analysis by Matthew Foglino
Below is a video walkthrough by Matthew Foglino, a historian and member of the United Federation of Teachers (UFT). At the end of his video, he offers an organizer for an enduring issues essay.
---
Final Writing Tips
1. Your issue must be supported by evidence from credible documents or class material. So, look for proof and use it to identify an enduring issue based on your findings.
2. The list above is not an exhaustive one. If you think you found an issue that's not listed there, don't be afraid to write about it.
3. Don't choose the first category as your issue because it's too general. Instead of "conflict," go for "disputes over socio-economic status."
Was this article helpful?
Let us know if you liked this page so that we can improve our content. You can also ask a question on our About page (see the menu) regarding this article and we might answer it here later.